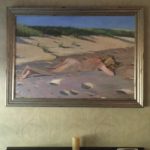 "This stolen painting of Kelli was returned to the artist by Susan and Bradd Martone with the assistance of the Edgartown, MA Police Department. Thanks to their cultural conscience we are happy to share the first public exhibition of this summer moment of youth and beauty that can be enjoyed by JHI guests and visitors alike." Max Moran
The letter that accompanied the return of Kelli:
"Returning Kelli Newman"      By Susan Martone         Social Ethics
I had memorized every inch of her in the same way a parent memorizes a child.  Slight blonde waves at the top of her head, pink cheeks and slender calves.  Kelli Newman was beautiful, and for 5 years, she was mine.  She graced our home with the class and elegance only something truly fine can.  I loved her.  Now, I gaped in horror at the website photo that was unmistakably her, and the newly discovered knowledge she really wasn't mine.  She had been stolen 5 years earlier.  In shock and disbelief, my husband and I walked in silence to the Edgartown Police Station, knowing the loss looming ahead of us represented a joyful reunion for another.
Perhaps I should have known 5 years earlier Kelli Newman was too good to be true, but at the time, it seemed completely reasonable.  It was Edgartown after all, an affluent town on the island of Martha's Vineyard. If Kelli Newman wasn't someone's hasty cast away, she most probably represented the spoils of a relationship gone sour.
During the week of May 3rd, 2008, my friend Hilda and I strolled into the Boys and Girls Club thrift store in Edgartown, MA.  There she was leaning on the floor against the usual suspects of thrift store art, "Kelli Newman," a magnificent mural-sized oil painting of a nude.  The painting was signed in the lower right hand corner, "Max Moran, 1988."  On the back of the canvas painted in broad-brush strokes, "Kelli Newman."   The thrift store sales person speculated the painting hadn't sold due to its tremendous size and nude subject matter.
This painting was stunning.  Its colors, vibrant blues, greens and yellows propelled me back in time to days gone by of a carefree existence. Gazing at Kelli Newman's youthful abandon on the beach, I felt Edgartown's soft sand cushioning my elbows, and the warm rays of the sun blanketing my shoulders.  A feeling of peace and tranquility transcended the canvas.  Kelli Newman inspired me, and I aspired to be just like her.  I bought the painting.  I had to have it.  The price was $25.00
My husband, Bradd, schlepped the painting on the ferry commute home pin-balling funny quips and comments with an array of curious on-lookers.  A couple of sophisticated-looking folks felt the painting was as spectacular as I, so, upon returning home, I googled "Max Moran" and found his website.
Max Moran appeared to be an artist of note, so I sent him an email requesting the painting's value.  When no response came, I surmised Kelli Newman was an earlier inconsequential work, but my masterpiece, nonetheless.  We had Kelli Newman framed, and she took up residence in our dining room.
Five years later, almost to the day, my husband and I were again relaxing in Edgartown.  It was mid-afternoon on Monday, May 6, 2013, when I discovered Kelli Newman was a stolen painting.  My husband was putting together a puzzle, while I sat harbor view conducting random Safari searches on my iPhone.  I was considering another painting seen earlier in the day at the same thrift store, so I searched that painting's artist, "Atwell," but no website appeared.  Enjoying the rarity of free time, I typed in "Max Moran," and clicked search.  With curiosity, I opened one of the first links that appeared, "Max Moran Stolen Art."   http://www.maxmoran.com/index.html#/stolen-art/
Max Moran's Stolen Art webpage opened displaying a $10,000 reward for information leading to the return of the stolen paintings featured.  As I scrolled through the dozens of magnificent stolen paintings, I choked on my own breath when Kelli Newman appeared captioned, "Stolen, Reported to FBI, July 2008."
"Braadddd!"  My husband rushed over and witnessed the unbelievable-ness appearing on my iPhone.  "Our nude painting was stolen!"  "Oh my gosh!"  "We have to go to the police," I exclaimed.   Completely flustered, the two of us walked up Main Street to the Edgartown Police Station.
We arrived at the Edgartown Police Station a few minutes later and met with Detective Christopher Dolby.  Unlike us, Detective Dolby was cool and calm.  He carefully reviewed Max Moran's Stolen Art webpage.  When he arrived at a photograph of Max Moran standing next to Robert Whitman, he identified Mr. Whitman and said, "I just read a book written by this guy."  The book, "Priceless," is a detailed account of Mr. Whitman's career as an FBI agent working in the FBI's Art Crime Unit.  Detective Dolby then pointed to two postcards tacked on his bulletin board; each one depicted a painting stolen from the Gardner Museum.  He had a special interest in art theft.
Detective Dolby made several unsuccessful phone calls to the FBI Art Crime Unit while we were at the police station.  When it was clear an answer would not be forthcoming that day, he sent us on our way and promised to follow up.
The next day, Detective Dolby called us with the most unusual news.  He had finally spoken to the artist and the proper FBI agent, but the 5-year statue of limitations had expired, so there was nothing he, the police or the FBI could do.  Detective Dolby did his best to explain the limitations of the U.S. art theft laws, but the laws seemed unfair and unethical.  Since 5 years had passed, I could keep the painting if I wanted to.
While it was perfectly legal for me to keep my beloved painting, was it morally right or ethical?  In making my decision, the answer to only one question mattered to me, "was the painting really stolen?"  When Detective Dolby replied in the affirmative, my answer was simply, "then Max Moran is getting it back."  Only a person without character or virtue would keep a stolen painting.   "Thou shalt not steal," had been instilled in me as a core value as a young child.  In my world, keeping a stolen painting was essentially the same as stealing it.
Upon hearing my commitment to return Kelli Newman, Detective Dolby provided Max Moran's contact information.  I promptly penned an email to Max that detailed the painting's thrift store provenance, ideas for its return, and last but not least, how much Kelli Newman had meant to me.  Within an hour, a delighted and enthusiastic Max Moran called me on my cell phone.
Max and I talked at length, mostly about his on-going, relentless efforts to recover the paintings stolen from him.  "These paintings are like my children," he shared.   He was at that time in Ohio attempting to recover a stolen painting donated to a well-known private, non-profit organization.  Unfortunately, the organization had its own double-effect type of ethical dilemma.  They were unwilling to return the painting for fear of "embarrassing" and damaging the reputation of its high-profile donor.
Max repeatedly offered me compensation for returning Kelli Newman, including painting my portrait or gifting another painting, but I appreciatively and respectfully declined. It didn't seem morally right to be compensated for doing the right thing.  Reuniting Kelli Newman with her rightful owner was compensation enough, and it brought me great joy.  Max Moran loved her even more than I did.  A virtuous person does the right thing, because it's the right thing to do.
If you are like everyone else who has heard this story, perhaps you too want to know what the painting was worth, but does it matter?  From a moral and ethical standpoint, it doesn't matter whether the painting were worth the $25 spent or $50,000, it wasn't mine.  For me, the only ethical thing to do was to return it.