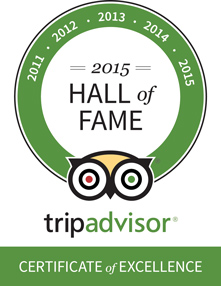 Inducted into 'Hall of Fame' of Five-time Certificate of Excellence Winners on the World's Largest Travel Site
Jedediah Hawkins Inn has been recognized as a TriAdvisor Certificate of Excellence Hall of Fame winner. The Certificate of Excellence award celebrates excellence in hospitality and is given only to establishments that consistently achieve great traveler reviews on TripAdvisor. The 'Hall of Fame' was created to honor those businesses that have earned a Certificate of Excellence for five consecutive years. Winners include accommodations, eateries and attractions located all over the world that have continually delivered a superior customer experience.
Being awarded the TripAdvisor Certificate of Excellence five years in a row and inducted into the 'Hall of Fame' is a true source of pride for the entire team at Jedediah Hawkins Inn and we'd like to thank all of our past guests who took the time to complete a review on TripAdvisor.